MacRumors has discovered that Apple's iPhone 2.2.1 firmware has evidence of the next generation iPhone which has been mentioned as "iPhone2,1". The iPhone is "iPhone1,1" and the iPhone 3G is "iPhone1,2". So, this is definitely a new one.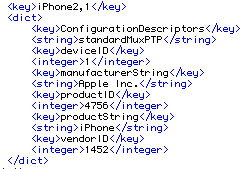 These numbers do not change for simple storage increases and instead represent functionally different devices. Similarly, the iPod Touch was originally introduced as the "iPod 1,1" and the most recent hardware revision was labeled "iPod2,1". The 2,1 iPod Touch added a speaker, volume controls, microphone support and a much faster processor than the 1st generation model. This new model number can be found in the USBDeviceConfiguration.plist in an unencrypted firmware.
Can it be the previously thought
iPhone Nano
? Let's wait and watch....
Via MacRumors